SolBridge hosts Liberal Arts and Technology Symposium: Humane Futures
Category : [2022]
|
Writer : SolBridge
|
Date :
2022.07.14
|
Hit : 5,134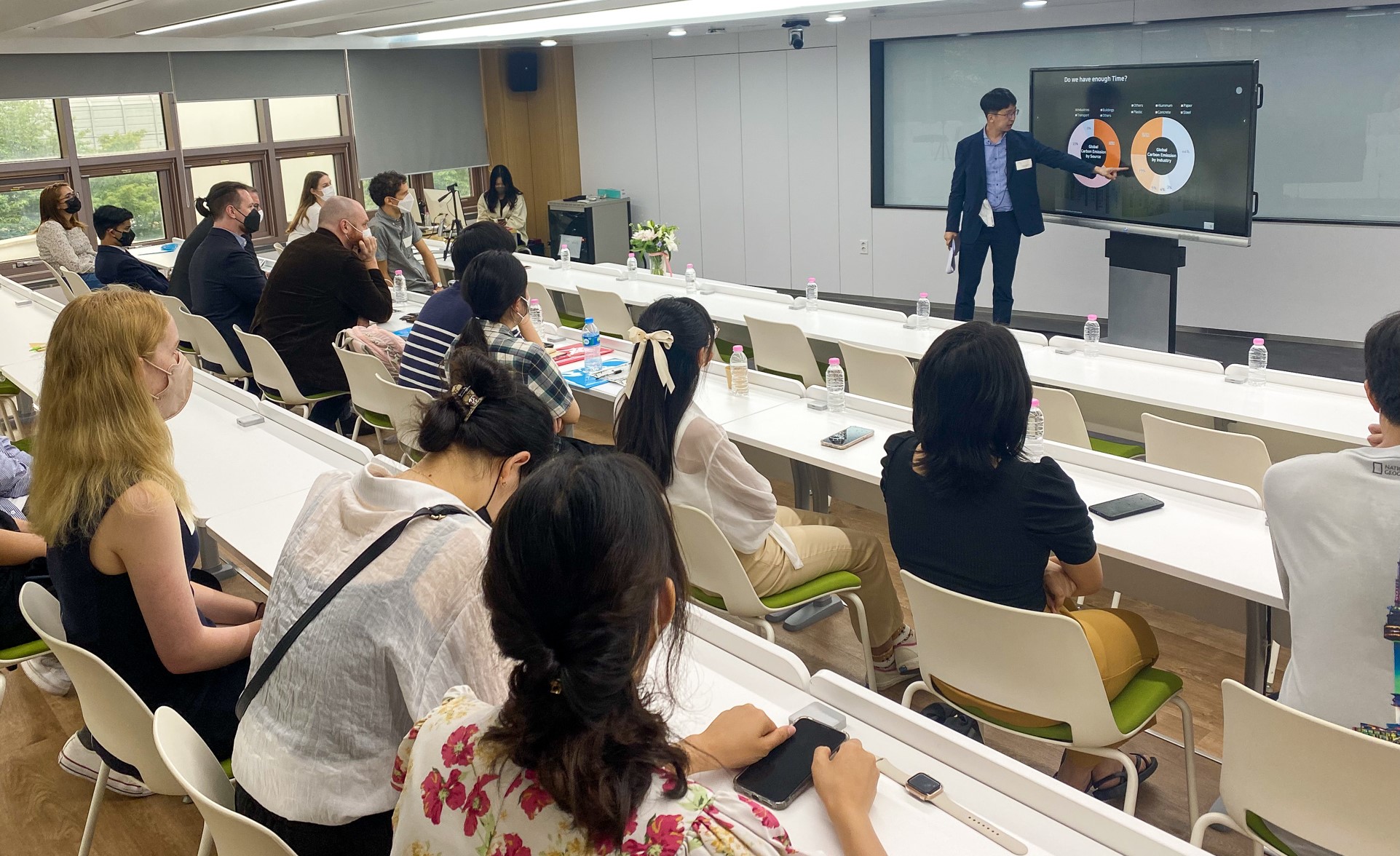 On Saturday, July 9, 2022, SolBridge hosted its first Liberal Arts and Technology Symposium attracting scholars and practitioners in multiple fields, including Ethics, Policy, Fine Arts, and Technology.
Under the theme "Humane Futures," the conference sought to address a crucial question posed by our uncertain future; "How might we create, maintain and sustain the kind of life on our planet in years to come that is not subsumed by the needs and excesses of human progress?" In addition, it provided a platform for both local and global scholars to share their interdisciplinary research in the humanities and applied sciences, and fostered discussions on innovations and sustainability.
Dean Joshua Park kicked off the symposium with a few welcoming remarks followed by a roundtable discussion on History and Society that attracted speakers from leading universities in South Korea and the United States to address the role of history in the technological present. Participants included: Sora Kim (Seoul National University), James Flowers (Kyung Hee University), Brian Hsieh (Illinois State University), and Loughlin Sweeney (Yonsei University).
Timothy DU Kang from Hyundai delivered a keynote address entitled "How to Achieve Net Zero: Technology and Regulations Alone Are Insufficient." Mr. Kang is responsible for identifying eco-friendly technologies and investigating their plausibility and scalability at Hyundai. He shared a glimpse into some of the ideal innovations offering hope for sustainable development, as well as the challenges faced in successfully adapting and implementing them in a business context. He discussed, moreover, how novel business ideas are often hampered by economic considerations and performance exaggerations, while making a case for government support above and beyond industry regulation.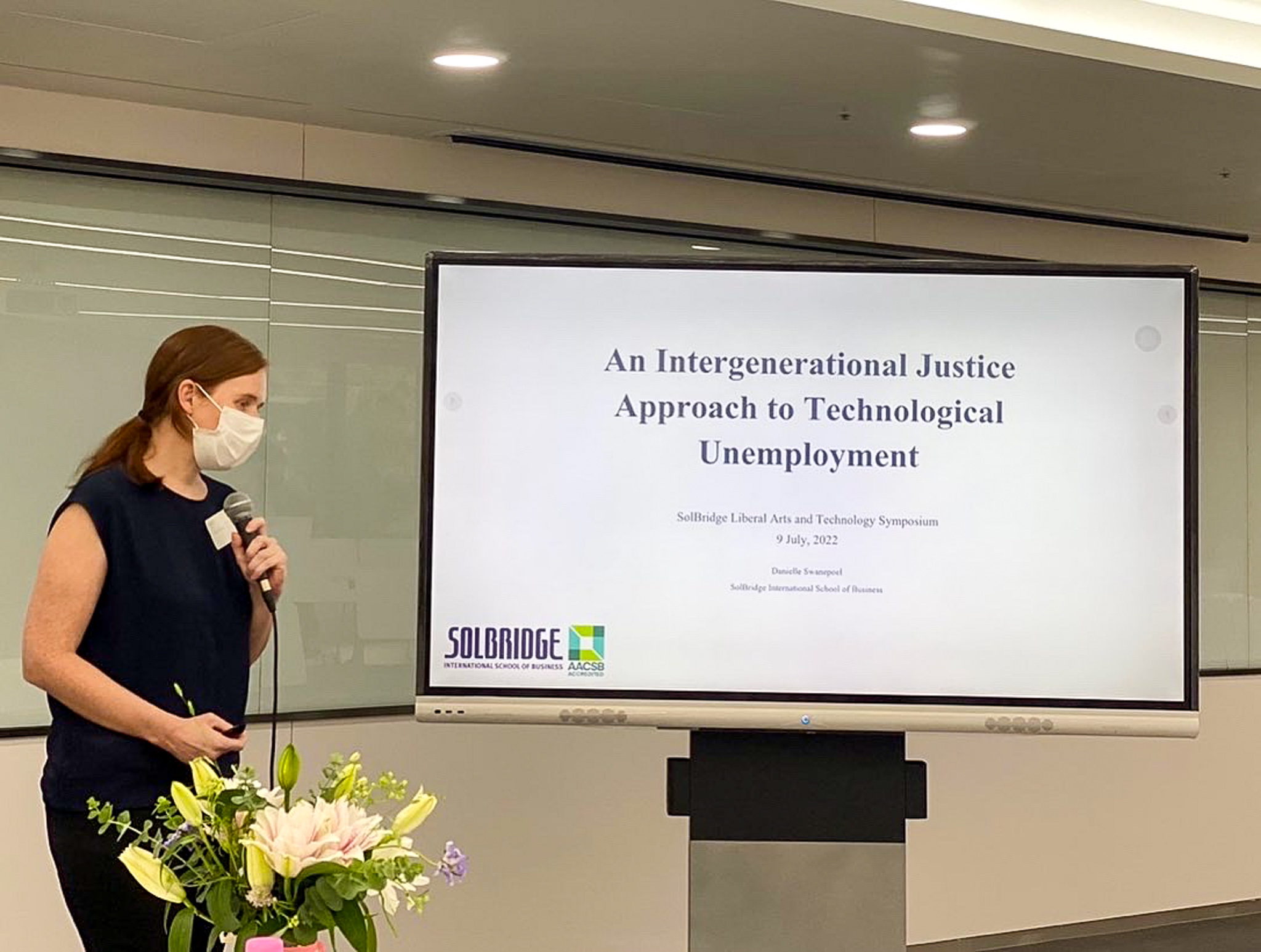 We want to acknowledge all the speakers below for sharing their knowledge and research at this conference:
"How to Prevent AI Replacement to secure a Humane Future,"

Chahaya Parahitta

(SolBridge)

"One Nation, One Language?

Lingua Franca

and Identity,"

Arunasish Sen

(SolBridge)

"Exploration of BOPPPS-Based Modes of Blended Teaching in University Curricula,"

Zhouyuan Tian

(SolBridge)

"Peace Education Theory and Practice Around the World,"

Kevin Kester

(Seoul National University)

"What Can Asian Governments Learn from South Korea's Human Rights-Inspired Politics?"

Daniel Corks

(SolBridge)

"On the Use of Disability,"

Carina Venter

(Stellenbosch University)

"Towards Government X: Anarchic Government of Project Cyberfolk,"

Sohin Hwang

(Independent)

"A case of Regional Innovation Policy: Strategies for the Global Science City Daejeon,"

Kyunghwa Kim

(DiSTEP)

"Innovation in Amusement Parks: Can We Use Blockchain Here?"

Roger Royo and Ronny Estrella

(KAIST)

"#Vibez: Signposting Social Crisis Through Online Music Listening,"

Anke Froehlich

(Stellenbosch University)

"The Role of the Media in Perpetuating Problematic Ideologies Around Gender and Sexuality within South Africa,"

Claire Westman

(Free State)

"Uncanny Technology and Haunted Commodities in the Work of Peter Strickland,"

John Riley

(SolBridge)

"Contemporary Art and Anti-Archives of Intergenerational Knowledge,"

Jason Waite

(Oxford)

"(Trans+De)(Human+Formation): Leaving Humanity Behind in Transition,"

Reshard Kolabhai

(North Western University)

"An Intergenerational Justice Approach to Technological Unemployment,"

Danielle Swanepoel

(SolBridge)