Dean Park's Message to SolBridge Graduating Class of Spring 2022
Category : [2022]
|
Writer : SolBridge
|
Date :
2022.07.07
|
Hit : 5,278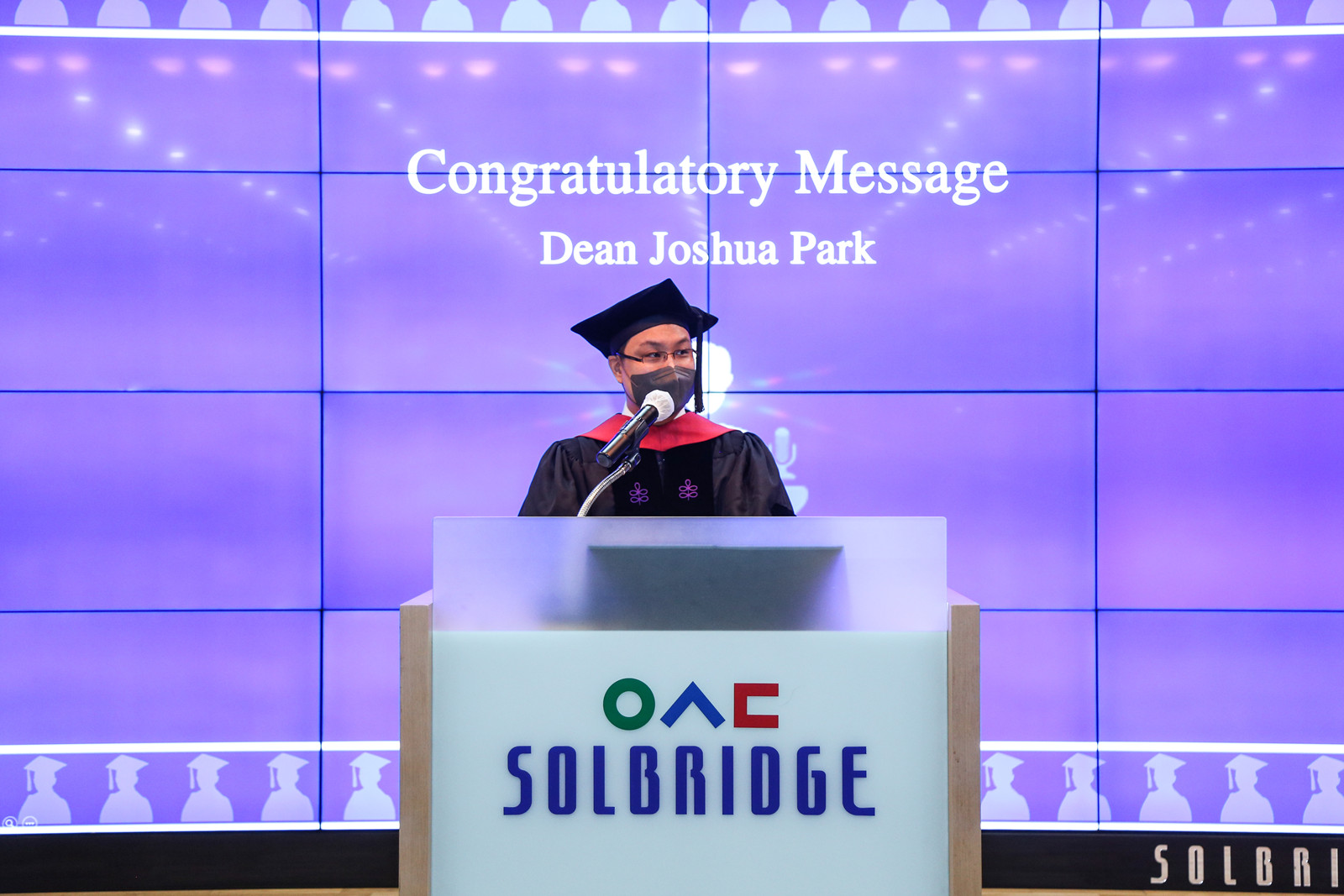 I'd like to thank Founder Kim, Chairman Kim, President Oh, and our distinguished high officials and faculty members for giving me the stage.
On behalf of everyone at SolBridge and Woosong, I offer the graduating class of Spring 2022 the warmest of congratulations.
This event is truly a landmark in our history. You are the first class since the onset of COVID-19 to be part of a fully in-person commencement ceremony that we have held at SolBridge, even if not every one of our graduates could join us. Our graduates from 13 countries from around the world can celebrate their achievement together in one place, receiving all of the applause from family and friends that you so much deserve. As the world is doing, we continue to take steps into the Post-COVID new normal.
Despite the challenges of the previous 2.5 years, you adapted and innovated, surviving and thriving in online/hybrid environments. You took part in remote internships and international workshops and competitions, you were able to socialize, make friends, and have fun even amidst social distancing limitations. We are all so very proud of you for your remarkable achievements. You, each one of you, are truly a success.
But of course, this new normal is not all rosy. As the world is more tied together than ever before and Industry 4.0 in full force, strengthened by the push factor of COVID, it seems as though we continue to face one crisis after another.
We have just heard of the impact of Fed's decision to hike the interest rates; in an amount some are calling a "giant step". This has an immediate impact on exchange rates and has ripple effects on economies around the world. We see gas prices higher than ever in recent memory. We still have a war in Ukraine that also impacts our region and the world. We have shifts in business and governance philosophies, such as regionalism, equity, sustainability, social responsibility—many of which may be a positive shift in the grand scheme of things, but tumultuous nevertheless. And I'm sure these can be closely felt by you, our graduates, most of whom now enter the world no longer as students, but as members of the working society. And you may feel a bit daunted.
In a previous speech, I used the analogy of a reed, that feels weak, fragile, and flimsy, especially in the face of such forces. But how individual reeds, when tied together as stacks, can be strong and resilient, not falling to storms that may bring down even the stoutest of trees.
This is how I hope SolBridge will function for you.
You collectively are a part of a uniquely diverse, supportive, and successful SolBridge community equipped with GACCS: Global Perspective, Asian Expertise, Creative Management Foundation, Cross-cultural Competence, and Social Responsibility.
You will always be a part of the SolBridge family, who can readily be identified by the GACCS DNA. Just as you did not let go of your relationship with family after leaving them to come to SolBridge, to Korea, don't let go of the friendships you've made with your fellow classmates, bonds you have built with your professors—make a real effort to stay in touch. Take advantage of our alumni network; we are really working hard to strengthen this network, hosting online and in-person alumni meetings. We will connect you with many of our successful former graduates from around the world; please take part and take full advantage of your worldwide family. And rest assured that just as you will continue to strive for higher and greater achievements, your alma mater will do the same—as was proven by SolBridge being selected as the first school in East Asia to be recognized twice by AACSB in its Innovations that Inspire feature, with us receiving the honor once again this year. Just as we are proud of you, we will make you proud to be associated with us, as part of our family.
A great thanks to all of you for your time here and I look forward to, in just a few moments, welcoming you as our newest alumni. Congratulations!